Latest News
Virginia Pool & Spa News
Thanks for visiting the blog of Ultimate Pools, your Virginia pool builder. We are continuing with the swimming pool construction process and have more photos to share. So as promised I am finally getting around to showing the photos from the swimming pool we dug on Feb 12, 2013 . On Feb. 19th we installed, the steel, the plumbing and shot the gunite (concrete) for the floor, walls and steps. I have not properly trained our construction crew on the semantics of taking pictures for my blog as of yet, but I hope in the future I will have more photos of all of the stages and steps of swimming pool construction. You know the old saying, "it's hard to teach old dogs new tricks" well the same goes for our construction crew. They are typically so focused on getting the job done that they really don't take the time to think about the best photos for my use. The plumbing is in....next is the gravel....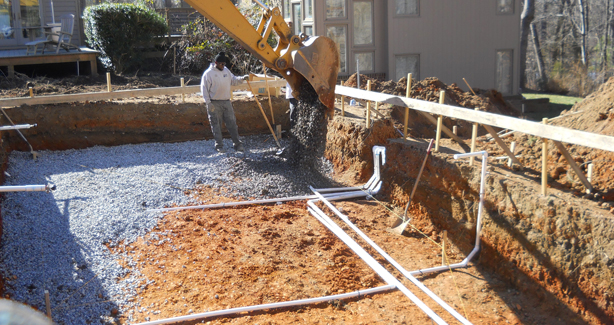 Plumbing and gravel then the steel... I do not have a picture of the steel installation. (I will get them trained.....?.? maybe??) This picture includes the steel and the shooting of the gunite for the floor, walls and steps.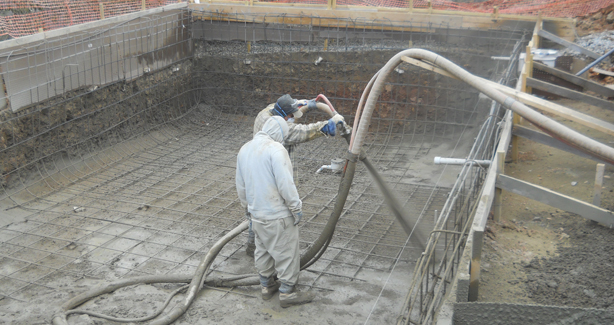 Blowing in the walls and the floor. another angle...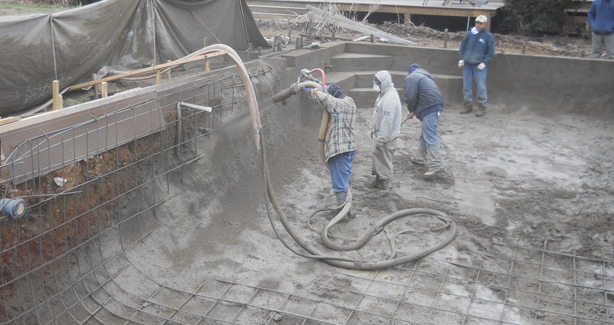 Blowing the gunite for floor, steps and walls of the pool. Once the process is started you can see it progresses rather quickly. It is the fine details that take a little longer. White coating/plaster, tile, coping etc., not to mention deck, fencing and landscaping. Those photos will be coming in the not so distant future, please check back to get the complete picture of the swimming pool construction process