Pool Covers
Keeping Your Pool Safe, Clean & More Efficient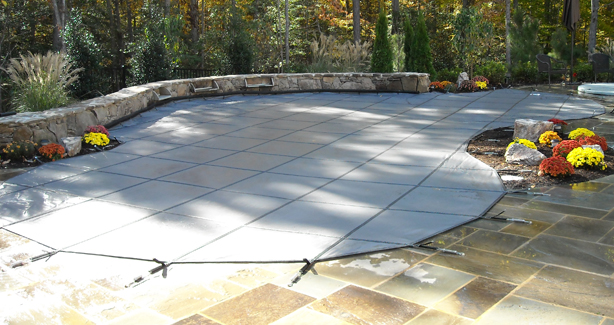 Safety Mesh Covers & Automatic Pool Covers
---
Ultimate Pools offers a number of pool cover options, including safety mesh covers and automatic pool covers. Both kinds of covers offer pool owners a variety of benefits that include keeping your pool safe, clean and more efficient. Contact Ultimate Pools today to speak with a specialist about which kind of cover will work best for you and your pool.
Safety Mesh Pool Covers
---
Mesh covers are a great way to add safety while cutting back on pool maintenance in the fall and winter months. Anchors are mounted to your pool deck for a tight fit, preventing accidental intrusion of someone into your pool. Mesh covers allow water to pass through, preventing snow and water buildup on top of the cover. They also function to protect you pool water from contaminants, considerably reducing algae growth.
Automatic Pool Covers
---
Automatic pool covers are designed to give pool owners the most convenient option in cover safety. A few seconds of turning a key to close a cover helps ensure the safety of your children and pets from drowning when your pool isn't in use and no one is there to supervise. An uncovered pool loses water, heat, and chemicals due to evaporation. Closing an installed automatic pool cover permits more saving throughout the year. Some counties in Virginia even allow this option without the additional need of a fence for security!