Latest News
Virginia Pool & Spa News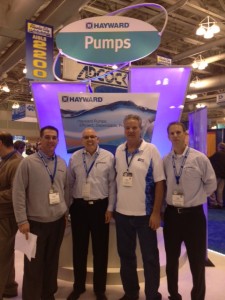 The Hayward team
---
We just returned from the Atlantic City Pool and Spa Show. This is a trade show that is held once a year for Swimming Pool and Spa Companies. Any of the latest and greatest products are usually show cased here. Here at Ultimate Pools, Inc. we constantly try to stay on top of new products and technology.
While we were there we ran into our Hayward representatives and stopped for a photo op. From left to right we have Bobby Lindsey, Tom Evans, Steve Jowers, President of Ultimate Pools, Inc. and last but certainly not least Tom Dissinger.
Hayward always has a large representation of quality pool equipment and products and we are happy to say we are a Totally Hayward dealer and we are certified to repair any Hayward product. These guys give us a tremendous support system we believe that we and you as our customer are in good hands with this Hayward team.
We always look for new products that our customers may be interested in and we will be showing you a few of these items in blog post to come. Stay tuned.